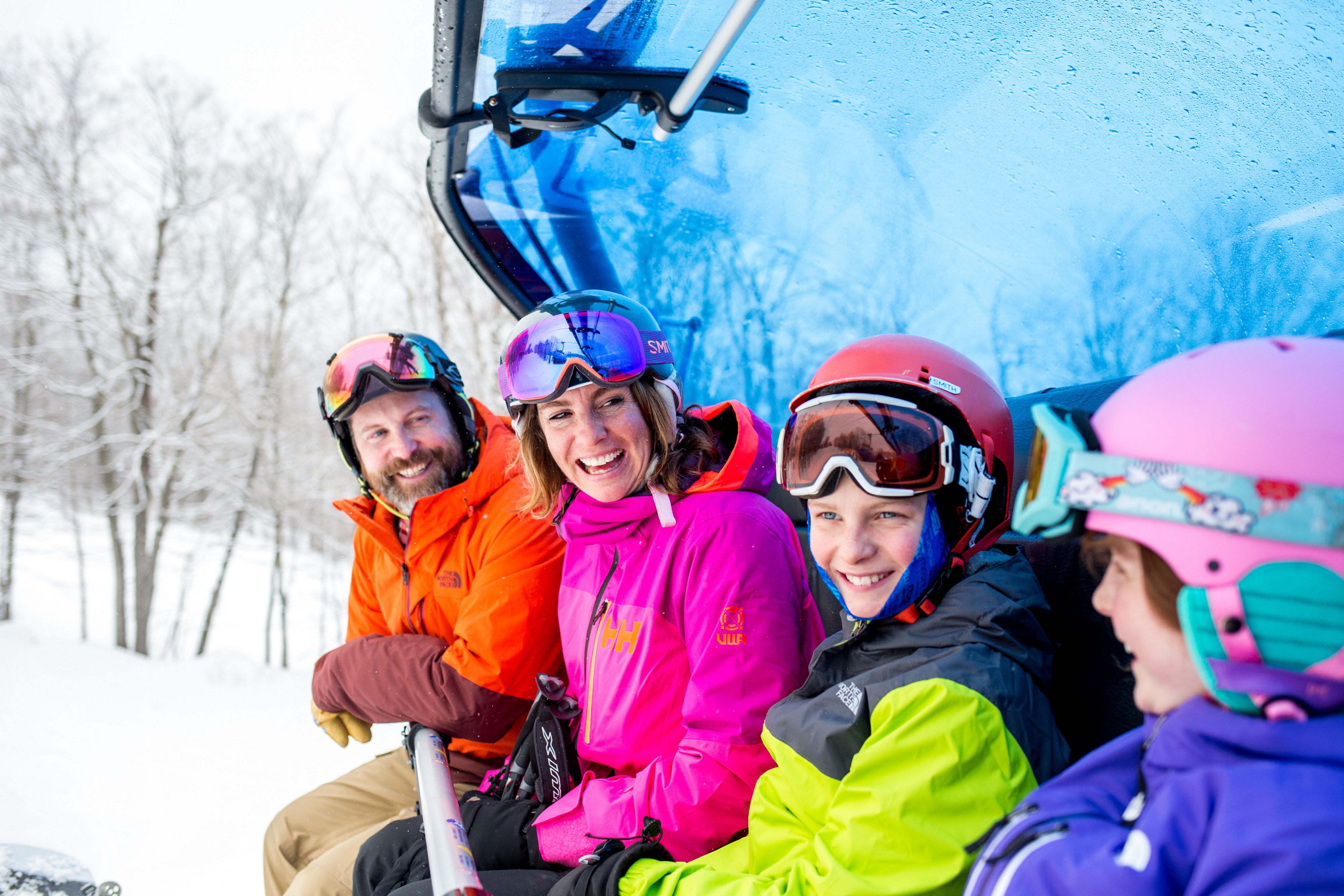 Some families love that Vermont's southernmost ski area is a short drive from major areas. Others come for the season-long development programs that have turned out World Cup competitors. For all families, there are tons of things to do at Mount Snow, both on and off the mountain. Here are six reasons families should consider a trip to this Vermont ski resort:

Plenty of Places to Stay Slopeside!

Parents know that anything you can do to avoid getting kids in and out of the car on a trip to Vermont ski mountains, especially with all their gear, is a bonus. At Mount Snow, there are literally hundreds of options for family-friendly lodging ranging from ski-in, ski-out on-mountain condos to the Grand Summit Hotel at the main base. The Grand Summit Resort Hotel also has a heated outdoor pool and hot tub and has rooms with pull-out couches that can sleep a small family. There is plenty of on-mountain dining and transportation as well. With on-mountain restaurants that specialize in kids favorites, from the Waffle House (and what kid doesn't love that?) to Tony's Pizza, you never have to get in your car. Alternately, many of the nearby townhomes and condos are on the shuttle bus route so again. The bonus, Epic Pass holders who book directly through Mount Snow's central reservation system get 20% off many of the resort's lodging and dining options.

Carinthia Parks: A Giant Snow Playground for All Ages and Abilities
Many ski areas have terrain parks. Mount Snow has a whole section —100 acres—of the ski area devoted to terrain parks with jumps and rails and berms for all abilities. There are nine parks that cater to the very young on up to world-class pros. If you have never seen a terrain park, think of a skateboard park but on snow or a fun snow-based playground that can teach all the skills needed to become well-rounded skiers and riders who can handle any terrain. The Carinthia area is designed to help kids progress with the tiniest rails and jumps in areas such as Grommet and Fool's Gold all the way up to Inferno's huge 60-foot jumps and a halfpipe that has trained some of the country's best freeskiers and riders. Grommet even has its own covered surface lift (a magic carpet or moving sidewalk in a clear tube) that is half the fun for little ones. It's worth it to go to Carinthia just to watch the action. Plus, the new $22 million Carinthia Base lodge is a great place to warm up with a meal at the top-floor Iron Loft restaurant while still keeping an eye of the action.

Fly Down the Slopes in a Snow Tube

There are more ways to slide on snow than on one or two planks. Mount Snow is among a handful of Vermont ski areas (Okemo is another) that has a dedicated snow tubing park. And with eight lanes, it is one of the biggest. Buy tickets ($30), reserve your tube (one per person) and time slot online (it's open from 11 a.m. to 4 p.m.), and then get ready to laugh. Spinning down one the lane while sitting in a giant purpose-built inner tube can get everyone from 5 to 55 giggling. The park is located between the main base lodge and the Grand Summit Resort Hotel.

Superfun Mount Snow Events

It seems like there's something going on nearly every weekend of the year at Mount Snow, whether it be torchlight parades over the holidays (Christmas and New Years' eve; Martin Luther King and Presidents weekends), terrain park competitions to watch like the Grommet Jams or Carinthia Classic, or some of Mount Snow's historically zany events such as the Jack Jumping World Championships or the Duct Tape Derby. Some families spend months planning for their entry into the Duct Tape Derby (a race in, you-guessed-it, homemade sleds built to look like cars or boxes of crayons) with an eye toward winning the prize for best craft made by kids. St. Patrick's Day weekend is always a fun one, often with a scavenger hunt with prizes, if not a "pot of gold" at the end. For a full list of events, check the resort's Event Calendar.

Ski and Snowboard Lessons for Families
Mount Snow has historically catered to families and its lesson programs cater to everyone form the smallest grommet who wants to learn to snowboard in a park, to accomplished ski racers. For little ones who haven't started skiing yet (ages 18 months to 4 years) there's state-approved childcare in a hands-on learning facility at the Clock Tower base lodge. Three- and four-year-olds can do half-day ski or snowboard lessons. For those ages four and up, there are

all-day group lessons that focus on having fun while building skills. Mount Snow is known region-wide for its season-long development programs for those age 7 or 8 on up to 15 to 18. These are ideal for families who plan to make a season out of it. Four programs focus on developing specific skills: All-Mountain, Snowboard, Freeski (with a focus on slopestyle, terrain park and rails) and Freestyle (moguls). These programs run Saturdays and Sundays from early December through the end of March and are a great way for children to make new friends as they see the same groups every weekend. There are also competition programs for those interested in alpine ski racing or snowboard competitions. For those who want to go on to instruct, there's even a Coach-in Training program which prepares students to be Professional Ski Instructors of America (PSIA)-certified Junior Instructors.

Après-Ski Skating, Snowmobiling, Fun and Games

One of the best parts of a ski vacation is apres-ski, those hours when you come off the slope, share a hot cocoa or a cold beer with friends or family, and talk about the big moments of the day. Some of Mount Snow's most popular apres-ski spots know that keeping the kids entertained is the secret to making sure parents can have a good time, too. The Last Chair, located in a big red barn off Route 100 in West Dover, has a huge Kids Zone with arcade games, video games such as Guitar Hero and air hockey. Snow Republic, a kid- and dog-friendly brewery and pub that occupies one of Vermont's largest log cabins. It is known for its 22-foot-long classic shuffleboard table as well as other games. For a more traditional après activity, The Sawmill Bar & Table at Farm Road Estate has s'mores packages you can enjoy around its giant fire pit and, if the ice is right, skate its small ice rink. The resort has skates for rent, lights and the rink is open until 10 pm. Last, for those who want a bit of an adrenaline rush, head out for a snowmobile tour with Vermont Snowmobile Tours. Kids ages 5 to 12 can take a two-hour tour, riding with their parents or go on their own tour, complete with their own guide. The backcountry tours typically start at 11 a.m., 1 p.m. and 3 p.m. and are dependent on enough natural snow to cover the trails.