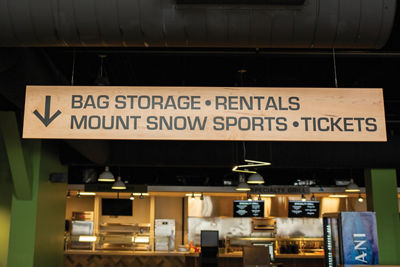 Bag Check
During the winter season, bag check is available in the Main Base Lodge. (enter through Mount Snow Sports at the Main, Backside Snowboards, or the Restrooms entrance).
Seasonal Lockers
Tired of lugging your gear each time you want to ski or ride? Rent a locker in the Seasonal Locker room located in the Main Base Lodge, below the Backside Snowboard Shop. The locker is yours May 1–April 30. You provide the lock. New to Mount Snow and would like to have a locker assigned to you? Please contact Peter MacDonald at peter.macdonald@vailresorts.com, he will be happy to assist you.

Skier Drop Off

Fifteen-minute parking is available at our designated drop zone, located next to the Clocktower building and Carinthia Base Lodge. Please put on your flashers while you are in the drop zone. Our fifteen-minute policy is strictly enforced. There are designated handicap parking spots just before you enter the drop zone, on your left. Please leave your handicap marker in a very visible spot.

STOR-A-SKI Check

Located in the Main Base Area, next to the Waffle Cabin, Stor-A-Ski will check your skis or boards for you so that you can run in and grab a bite to eat without having to worry. Overnight check is available as well.
Unlimited daytime use - $2/Midweek and $3/Weekend & Holiday
Overnight Storage - $7
Seasonal Storage - $140 for one person, $240 couple, $330 3-person use, $430 4-person use, $530 5-person use ($25 for just daytime seasonal use)