Mount Snow Childcare
At Mount Snow Child Care our summer programming will keep your little ones busy in this all day camp program. Children are placed in age appropriate classrooms that are geared towards outdoor adventure. Campers should expect to be active whether they are crawling, hiking, biking, doing water play, art & craft projects or playing inside our wonderful childcare facility!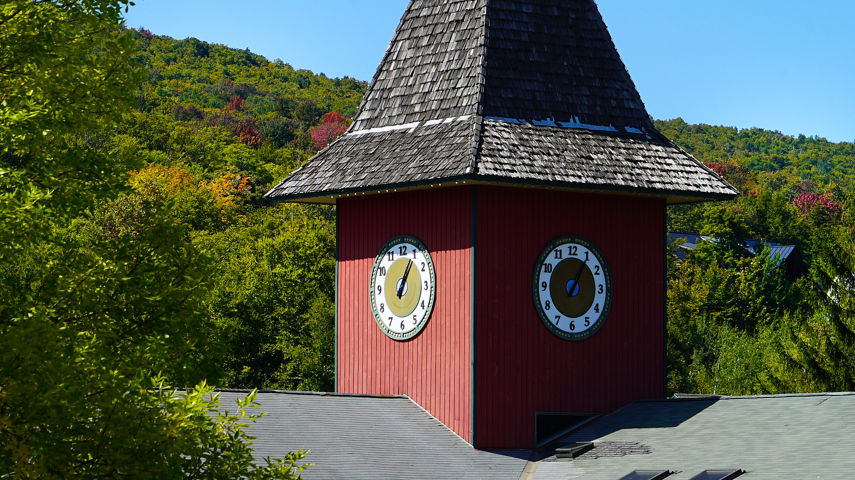 6 Weeks - 5 Years Old
Hands-on Learning
Whether they're just crawling or ready to run, jump and climb, kids ages 6 weeks to 5 years will have an adventure packed day through hands-on learning and outdoor adventure.

Centrally located in the Clocktower Building in the Main Base Area, Mount Snow Childcare is a welcoming, state-licensed facility that provides individual classrooms full of enriching age appropriate activities.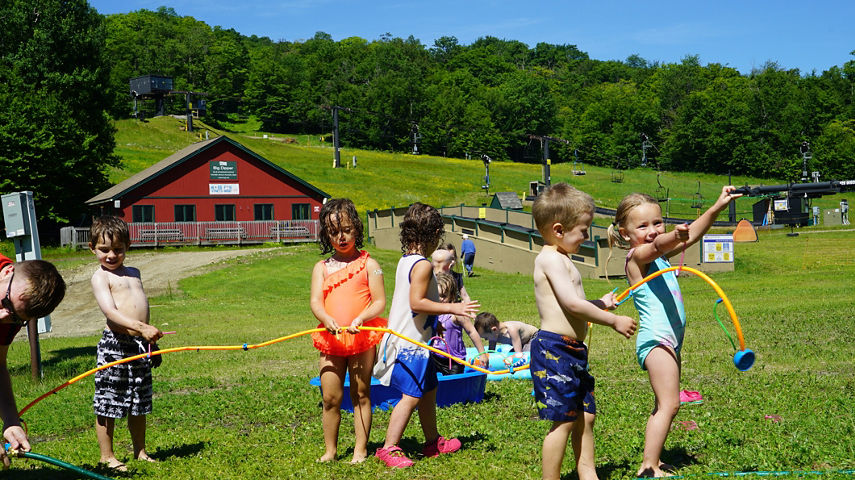 Hours of Operation
Open: Monday - Friday, 8:30am - 4:30pm
For Children: Ages 6 weeks to 5 years
Location: Clocktower Building
Contact: 802.464.4152
| Duration | Rate |
| --- | --- |
| Full Day | $130 |
Reservations are required for ALL childcare programs
Reservations are charged in full when booked
To reserve call 802.464.4152
Daily Schedule
Here is what a typical day at Mount Snow Child Care entails:
| | |
| --- | --- |
| Time | Activity |
| 8:30am – 9:00am | Drop Off |
| 9:00am – 9:30am | Morning Snack |
| 9:30am | Morning Activities (circle time, arts & crafts, music, play) |
| 10/10:30am | Outdoor Adventure (hiking, exploring, playground, water play) |
| 12:00pm | Lunch |
| 1:00pm – 3:00pm | Quiet Time |
| 3:00pm – 4:30pm | Free Play/Playground |
| 4:30pm | Pick Up |
What do I Bring?
Diapers, wipes
Bottles, baby food
Picnic lunch/morning & afternoon snacks
Extra clothing, long pants, jacket, hat
Hikers or sneakers, & water shoes
Towel & bathing suit
Sunblock & bug spray
Water bottle
Bike or Trike & Helmet (encouraged for 3 & up!)
Please label all belongings!
Helpful Information
After enrollment you will receive an email with a registration form requesting emergency and medical information, health policy, daily health screening and important information. Please review this information and complete forms ahead of time.
Prepare your child for the day ahead by explaining to them why they are here and reassure them that you will return for them at the end of the day. Also make sure they are well rested and have a good breakfast.
All children must complete and pass a mandatory health screening each day they are scheduled before access to the facility is permitted.
Please notify Child Care prior to your arrival if your child has any allergies or special needs. The more we know about your child the better!
Child Care staff are not authorized to administer medication. If your child requires medication during the day you will need to set aside time to administer it.
At your arrival, parents/guardians will be given a security tag that must be presented and returned at visits and pick up. Only people on your pick up list will have access to the facility with proper ID.
Nannies, parents, family members, etc. are not allowed to remain in Child Care throughout the day.
In order to maintain the integrity of our program please arrive during drop off times. If your child will be arriving after 9:00am please inform Child Care in advance.
Child Care closes at 4:30pm. Please be prompt at pick up time.
We keep a babysitting book at the Child Care front desk for babysitting requests. Mount Snow provides this only as a courtesy, and staff will call you upon availability to make arrangements.