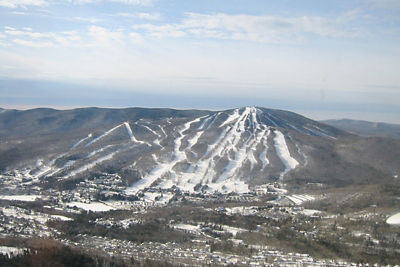 Mountain Hosts
For nearly 40 years, the Mountain Host program has been evolving from its initial six local volunteer Ambassadors to today's crew, which is organized as part of the National Ski Patrol (NSP). Designed to provide Guest Services on- and off-snow, Mountain Hosts will greet you on your way into our resort, thank you as you leave, and watch out for you throughout the day as you enjoy the snow.
If you are new to Mount Snow and have never skied here before, ask a Host about a Mountain Tour. Tours are designed to accommodate the guests' ability level, will feature a number of different loops and lifts that will familiarize you with our mountain quickly, and normally take an hour. Inquire at Guest Services at the Clocktower Building.
As accomplished professionals in their off-mountain lives, the Host volunteers train throughout the year, educate guests on the Skiers/Riders Responsibility Code, provide speed control on slow skiing trails, check for frostbite, and help with crowd control at major events and festivals. Our mission is to provide assistance to all guests every day and in every way!
All members must complete 25 days per season, which includes a pre-season orientation. Strong customer service skills and a friendly, outgoing attitude are a must. All prospective members will go through an interview, ski test, and departmental orientation. Benefits include a season pass, food discounts at selected eateries, and equipment discounts.
The next time you join us here at Mount Snow, stop by for a visit with one of our Mountain Hosts. We're easy to spot—just look for us in the red jackets!
For more information about us, please contact Peter MacDonald by email.