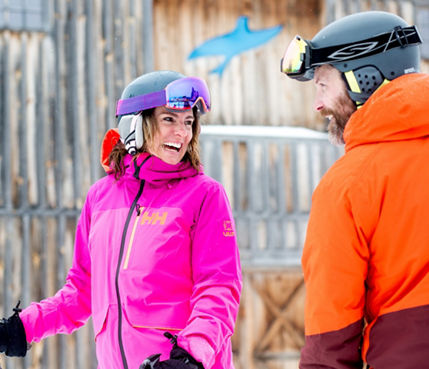 Packing for a ski trip can seem daunting. Even the most seasoned skiers and riders often pack too much, forget a key item, or realize they wish they had brought different gear. However, a few pro tips can make the process of packing for a
Vermont ski weekend
much easier.
Here are seven items that you should include in your packing list:
Helmet and Goggles
A must-have when packing for your Mount Snow ski trip are your helmet and goggles. Even though it's not a requirement to wear a helmet on the slopes, it is crucial to protect your head from serious injuries. The National Ski Area Association's annual helmet study found that over 90 percent of skiers and riders wore helmets during the 2020-21 season. Recent studies show that helmet usage has increased, leading to a drop in potentially serious head injuries. Look for helmets that have a multi-directional-safety-impact system (MIPS) that reduces rotational motion during falls, have vents for spring skiing, padding for warmth, and a good strap for holding your goggles in place. Remember to purchase your helmet and goggles together to ensure they fit well. And when it comes to goggles, be sure to bring lenses that allow you to see in low-light, clouds or fog as they are most needed during these conditions.
Good Ski Socks
There is no substitute for good ski socks. Avoid wearing socks that are too thick as they can make your feet colder by taking up too much room in your ski boots and cutting off circulation. Choose socks that come up well above your calf, are made of wool or other insulating fibers, and stretchy enough to fit snugly without bunching up. Bring a fresh pair of ski socks for each day, and plan to bring extras to wear after skiing.
Base Layers
When you dress for skiing, think about what you would wear if you were running on a cold day. For your base layer, you want something that's both insulating and wicking. A quality pair of long underwear is as much about keeping you dry as keeping you warm. Look for a thin layer that's made of insulating, wicking fibers. Tops that have a zip neck let you cool off at the bottom of a run and zip up on the chairlift. Thumb holes at the wrists are nice features that help close off the gap that gloves or mittens sometimes leave. For your bottom layer, look for insulated and wicking materials – not just running or exercise tights – and make sure they won't bunch in your ski boots. Bring two pairs of tops and bottoms for a weekend trip.
Second and Third Layers
In Vermont, the temperature can range from warm and sunny spring days with temperatures well above freezing to braving arctic blasts when the mercury dips below 0, and the wind chill can make it feel like – 20. The secret to staying comfortable in such conditions is layering. A synthetic down jacket is a perfect second layer to wear over long underwear or a wool sweater. It can double as your après-ski jacket and be all you need come spring. For winter, team it with a waterproof/windproof shell or an insulated jacket. Look for something with a hood that you can pull over your helmet for windy rides up a chairlift. Some jackets also feature "powder skirts" with snaps at the waist to keep snow from creeping in. Pants, either shells or insulated, should fit well and not leave a gap at the waist. When shopping for skiwear, stick with technical outdoor brands.
Neckwarmers and Face Covering
A huge amount of body heat can escape around your neck and face. When it's really cold, wearing a balaclava (a neck warmer with an attached hood) can make all the difference in the world. For some, especially young children, face masks can keep the wind from chafing. A good solution for those who don't want to go that far is to have a neck warmer or scarf you can pull up over your nose on cold rides up a lift and then drop for the ski down.
Mittens or Gloves
If you have to rely on hand-warmers to keep your fingers from freezing, you probably are in a pair of gloves or mittens that are too small or you need to shop for a new pair. In Vermont, you may often see locals wearing work gloves on the slopes. These are sturdy, lined gloves that are loose enough to let the circulation flow. For those who do get cold hands, insulated mittens with waterproof or leather tips are a good choice. Mittens tend to be warmer than gloves.
Après-Ski Wear
In Vermont, après-ski is a casual affair, and that extends to what you might wear
out for dinner
. Locals typically don a ski sweater, fleece, or even their slope attire paired with jeans and a pair of warm, snow-proof boots. It's essential to wear tall boots that can help you wade through powder drifts if needed.
Once you have your gear dialed in, make sure to wash and organize it so that you're ready to hit the slopes as soon as the next snowstorm hits. By having these essential items packed and ready, you can make the most of your time on the mountain and enjoy all that Mount Snow has to offer.
Produced in partnership with Vermont Ski + Ride Magazine.