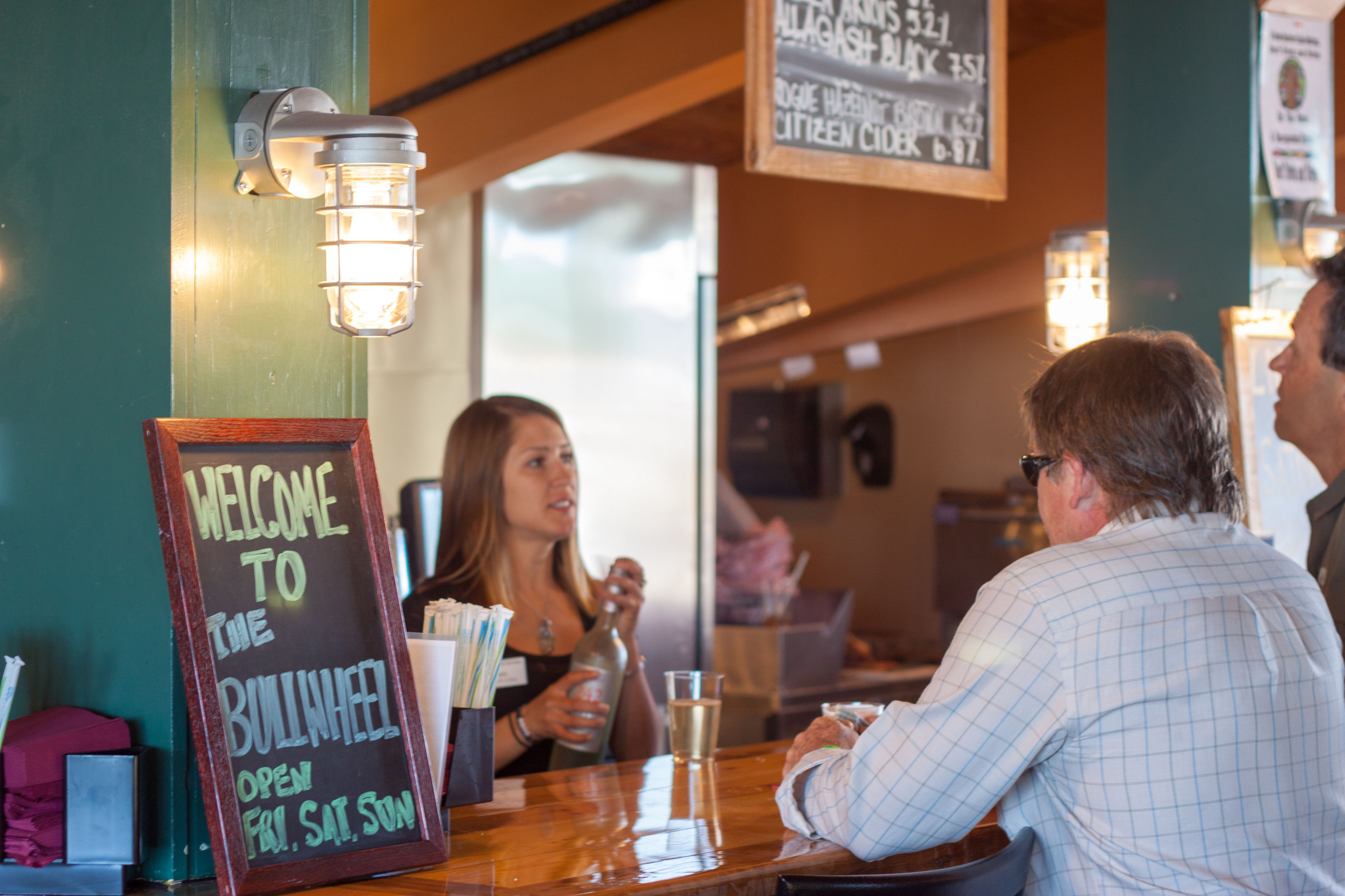 One of the greatest joys of skiing is sharing the day with others when you come off the slopes. Mount Snow has one of the best après-ski scenes in Vermont, with a rocking base-lodge bar (Cuzzins) and live music venue (The Snow Barn) within steps of the slopes and wide variety of options up and down Route 100 and the Deerfield Valley. There are brewpubs with arcade games for kids, firepits with s'mores fixins and elegant fondue meals. Check out these Mount Snow bars, nightlife and après-ski spots after a day on the slopes.

Best Après-Ski and Comedy Act: Cuzzins, Mount Snow

You've missed half the fun of riding or skiing at Mount Snow if you don't stop in for a beer and wings at Cuzzins at the main base lodge after a day on the slopes. Cuzzins has your standard base lodge fare: chili, burgers and soups and serves at sit-down tables. You can in for lunch, but later in the day, the music kicks in and the place starts to hop —especially if Bruce Jacques is on stage. Jacques has been entertaining at Mount Snow for three decades and his act combines covers and impersonations of Queen, Beyonce, Guns & Roses, Britney Spears and others, often done in costume with a heavy dose of comedy that's PG enough for an 8-year-old. Jacques's shows often end with the entire room dancing on the tables. This winter he's scheduled to perform at Cuzzins most Saturdays (and some Sundays) from Dec. 17 through mid-March.

Best Music & Dancing: Snow Barn, Mount Snow
You might have to take off your ski boots but you can walk from the slopes to the Snow Barn, located across from the Sundance Parking Lot for dancing and live music on Saturday nights. Popular bands such as Neon Wave, an 80s tribute band, get the audience dancing early on New Year's Eve. Later in the season look for open mic nights, reggae, and Prince tributes. Be sure to book tickets ahead as some acts do sell out.

Best for Families: Last Chair— West Dover

Head south just a few miles on Route 100 from Mount Snow and you'll see a big red barn with a hanging chairlift outside it. The Last Chair has a been a Mount Snow favorite since its previous incarnation when it was called Deacon's Den Bar & Grill (or D-Bag to locals). It's still the après-ski spot for families, thanks to The Kids Zone and its game arcade that has air hocky and video games from Guitar Hero to classics like Skee Ball. Kids can win tickets from playing the games and trade them in for fun prizes, all while parents hunker down at the bar or enjoy a meal of ribs, lobster mac 'n cheese or an ahi tuna salad.

Best Acoustic Music: Trail 87 —West Dover
Mount Snow has 86 trails. Trail 87 is the place to stop after you've hit up at least a few of them. With a wide selection of local Vermont brews, creative craft cocktails (think cider pumpkin sangria) and a menu that can range from a standard pub fare to the chef's lamb shank special, it's an easy place to please all palates. Plus, with live music (usually acoustic) and big-screen TVs for watching the games, no one will get bored.

Best Sports Bar: Valley View Saloon — West Dover

With six large-screen TVs, a big bar that serves some of Vermont's most sought-after brews, and a menu of wings, burgers and Reubens that earn rave reviews the Valley View Saloon is a local favorite. When big games are on, you'll find a spirited crowd heckling the TVs and it won't take long to make friends here, as a long as you are rooting for the same team.

Best Brewpub: Snow Republic — West Dover

Whether it's a purely local brew you're in the mood for or a chance to play an authentic 1950s shuffleboard table, Snow Republic has both. Housed in a log-cabin—the largest in New England—the brewery has quickly become an après-ski favorite. Owner Walter Bansely, a Mount Snow skier, Marine Corps veteran and trial lawyer from Connecticut, switched careers and opened Snow Republic just before the pandemic. There's a pool table, a 22-foot-long shuffleboard table, giant Jenga and checkers games and yes, a shot ski.

Coziest Après-Ski Spot: Sawmill Bar & Table

After a cold day on the slopes, one of the best ways to warm up is with a hot toddy, a Chocolate Martini or a glass of wine (and the wine list is extensive) in the bar at Sawmill Bar & Table. Part of the Farm Road Estate's inn and cottage complex, the bar dates back to the 1800s and has exposed wood ceilings and beams, low light and a rustic chic ambience. You can also take your drinks to the Great Room and sink into one of the leather couches in front of a massive fireplace—or ask for hot cocoa and a s'mores kit and head to an outdoor firepit. Don't hesitate to order apps as well: the menu is farm-to-table.

Best for a Fondue Date: Hermitage Inn or Alpenglow

If you really want to impress a date, book a gondola for two (or for four, if it's a couples' night) at the The Hermitage Inn. Yes, a gondola. The revamped inn offers special $75 (per person) "alpine experiences" for après-ski in private outdoor gondola cars outfitted with leather banquettes and chandeliers. Fondue is served with petite sandwiches, venison meatballs, cornichons, smoked chicken sausage and all the trimmings. The Hermitage also has one of the most extensive wine lists in the region. Another charming setting with fireside fondue is Wilmington's Alpenglow Bistro. The cozy, alpine-themed restaurant serves up bubbling pots of fondue for two with sides of Black Forest ham, cornichons, sausages, hearty sourdough bread, pears and apples and more. For a date, ask for a fireside table. There's also a stunning private room that can be reserved for larger parties.

Produced in partnership with Vermont Ski + Ride Magazine.