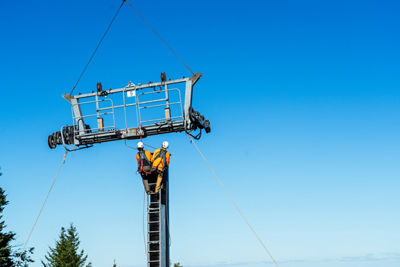 By Adam White
Skiers and snowboarders race to embrace what's new: The morning after a Stowe snowstorm with fresh powder blanketing the slopes; the very latest technology in gear and the coolest apparel; the hippest après spot with the trending craft beer or cocktail that everyone can't wait to try. When it comes to what's new, everyone wants to carve first tracks.

The promise of the new is especially strong here at Stowe and the rest of the Northeast for the upcoming winter season. In fact, Vail Resorts' eight resort destinations across the region are unveiling a wide array of upgrades and improvements, everything from state-of-the-art lifts and snowmaking technology to brand new trails to explore and park features to shred. Already the favorite destinations of legions of skiers and riders, these resorts promise a better-than-ever experience for the 2021-22 winter season.

Okemo Mountain Resort

Okemo is undergoing a transformational upgrade as part of Vail Resorts' capital improvements plan. Exciting projects include major lift upgrades – highlighted by a new high-speed, six-passenger chairlift – as well as terrain and snowmaking expansion, an improved arrival process and an aesthetic refresh of the resort's Clock Tower base area.

Lift Upgrades for Improved Summit Access – Quantum Six and Evergreen Summit Express
Okemo is upgrading the Quantum lift at Jackson Gore from a four-person to a six-person, high-speed chairlift, now named the Quantum Six, and relocating the existing four-person, high-speed Quantum lift to replace the Green Ridge three-person chairlift, and renaming it Evergreen Summit Express. This will increase uphill capacity and improve guest circulation across the resort.
New Green Link Trail Expedites Summit Access from Jackson Gore
A new connector trail that leads from the intersection of Upper Mountain Road and Roundhouse Run to the base of the new Evergreen Summit Express is making the summit and its variety of terrain more accessible. Skiers and riders approaching from the Jackson Gore area will have faster and easier summit access, relieving congestion at the resort's primary summit lift, The Sunburst Six, and improving the overall mountain experience.

New and Upgraded Snowmaking
In addition to installing snowmaking on the new Green Link trail, Okemo is upgrading snowmaking infrastructure on Upper World Cup, Sapphire, as needed around the mountain, and reconfiguring some of the system to accommodate the added snowmaking coverage.

With this upgrade, Okemo maintains its status of greatest snowmaking coverage in Vermont, having the capability to cover 98 percent of its trails.

"Okemo skiers and riders have seen many improvements through the years, and this season marks another milestone with infrastructure upgrades designed to make getting on and around the mountain faster and easier," said Okemo Vice President and General Manager Bruce Schmidt. "This year's two lift upgrades and improved access to summit terrain will enhance the on-mountain experience and help us achieve our goal of providing guests with an experience of a lifetime when they visit Okemo."

Mount Snow Resort

Thrilling things are happening at Mount Snow, where the biggest and best terrain park in the east – Carinthia – is getting even better for the 2021-22 season. A reimagining of the features and flow within Carinthia will revamp its already-industry-leading progression, especially for beginner and intermediate skiers and riders looking to build skills and confidence.

This starts with a reconfigured grommet (beginner) park, where "a six-year-old or 36-year-old individual can try something for the first time, in an environment that emphasizes safety as much as fun," according to Mountain Operations Director Kevin Harrington.

"This progression, this inclusivity to all the different levels of park skiers and riders, is what sets us apart," Harrington said. With six park-specific machines for shaping features and more than 100 acres of terrain across which to work their magic, Harrington and his crew can build the ultimate mountain playground like never before.

"Our flexibility and our creativity allow us to do things nobody else can," he said. "This is the next chapter in the evolution of Carinthia, and it's really exciting."

The parks aren't the only place where great new things are happening at Mount Snow this winter. Implementation of the EpicMix app for the 2021-22 season gives Mount Snow guests a fun new way to experience the mountain.

The days of wrestling to unfold and view paper trail maps on the lift are gone, thanks to EpicMix's interactive trail map capabilities. Plan your on-mountain experience, track your runs and vertical, locate family and friends across the resort and get real-time resort information and updates through a powerful and fun app that won't drain your smartphone battery.

Arriving at Mount Snow's base area will reveal another eye-opening new development: The total reconstruction of the resort's mountain operations building. This project gives the Mount Snow team a new headquarters with 16,000 square feet of space for vehicle maintenance, snowmaking, building maintenance (including the plumbing shop and electrical shops), administrative offices, a conference room and training space as well as patrol locker rooms and offices.
Stowe Mountain Resort

Woods skiing and riding is one of the fastest-growing trends across alpine resorts, and nowhere in the east is the allure of the trees stronger than at Stowe. Recognizing that many interested guests could use a proper introduction to this type of terrain, Stowe continues to improve and expand its most easily accessible glades, dubbed 'Adventure Zones.'

Easily accessible off the Mountain Triple lift, these low-angle, gladed areas are appropriately designated for the whole family and those skiers and riders looking for a fun excursion through the trees off the groomed cruisers on Mount Mansfield.

Attitash Mountain Resort

A snowmaking expansion on Wilfred's Gawm gives experienced skiers and riders another exciting option for skiing and riding off the Attitash summit. Lift Line trail under the Abenaki Quad will be wider, making for better descents off Bear Peak. New fire pits in the Bear Peak base area will provide the perfect spot for a toasty après. Attitash Terrain Parks will be more tricked-out than ever this winter, thanks to a dozen new terrain features.

Wildcat Mountain Resort

Revamped snowmaking and the addition of two more Snow Cats to the Wildcat fleet will contribute to better surface conditions throughout the season. New chairs on the Wildcat Express lift will help skiers and riders get up to get down.

Mount Sunapee Resort, Crotched Mountain Resort, Hunter Mountain Resort

These resorts are three of five Vail Resorts properties in the Northeast that will provide special access to youth groups from the National Brotherhood of Skiers thanks to more than $97K in youth access program grants awarded by Vail Resorts and the Katz Amsterdam Charitable Trust.