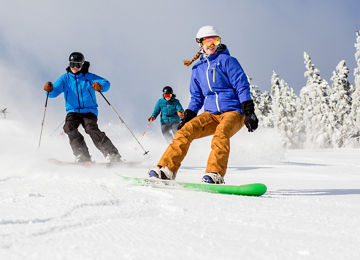 If you think all the top talent in
skiing and riding
gets starts out at big mountains out West, think again. Some of the winningest athletes in snowsports learned their skills at Mount Snow, thanks to three things:
-The development of the
Carinthia Parks
terrain parks with its 9 parks, half-pipe, and features that encourage progression
-An excellent
freestyle ski program
open to weekend skiers and riders
-Mount Snow Academy, a top school for emerging talent
"Terrain parks help you develop so many skills that help you all over the mountain," says Brian Knowles, the head coach at
Mount Snow Ski Club
's weekend freeskiing program. Head over to Carinthia and you may see four-year-olds sliding off features or Olympians launching huge airs.
Many of those Olympians started skiing at Mount Snow and most of them still have ties to the area so there's a good chance you might find yourself riding a lift with a World Cup winner or X Games athlete. Here are a few of Mount Snow's hall-of-fame-worthy Olympians.
Kelly Clark: Competed in 5 Olympics, 2002-2018
Step into TC's Restaurant in West Dover and you can see an homage to the most decorated snowboarder in history, Terry and Cathy Clark's daughter Kelly. The Clarks were skiers who spent their winters in the late 1970s working at the Snow Lake Lodge in West Dover and summers in Newport or Block Island. In 1979, they moved to Vermont full-time and opened their own restaurant in West Dover, TC's. Four years later, Kelly was born.
Kelly started out skiing but begged her parents to buy her a snowboard. Finally, when Kelly was 7 the Clarks went to K-Mart and picked up a "Mobil Monster" snowboard. Kelly started riding all over Mount Snow. In 1992, Un Blanco Gulcho, one of the first terrain parks in the East, went in. Kelly made it her second home. By the time she was 17, she was enrolled at Mount Snow Academy student and on the U.S. Team. In the 2002 Olympics, Kelly took home the gold medal in the halfpipe. She went on to compete in four more Olympics, earning two bronze medals and a fourth. Before retiring in 2019, Kelly won three World Championships and 13 X Games medals. Kelly tells her story in her book Inspiring. She has since moved to California but comes home for visits.
Her parents turned TC's over to Kelly's brother Tim Clark and his wife Becky but if you head in there over the holidays, you might find the whole family helping out.
Devin Logan: Competed in 3 Olympics 2014-2022
In 2016, Devin Logan – or D- Lo, as friends call her, made history as the first freeskier to win the overall FIS crystal globe in freestyle skiing – a category that includes moguls, aerials, and freeskiing. Devin, who competed in both slopestyle and halfpipe skiing, was not just the first woman — but the first freeskier, male or female — to take home the biggest trophy in World Cup freestyle skiing. It is the one that rewards all-around performance in multiple disciplines during the 34-stop FIS World Cup.
Logan started skiing when she was 2 years old and grew up chasing her brothers, ski filmmakers Chris and Sean Logan, around Mount Snow. "They were always super supportive of me, encouraging me to do whatever they did – whether it was playing football or park skiing," Logan says. At age 6, she enrolled in Mount Snow's weekend freestyle ski program and in seventh grade, enrolled in Mount Snow Academy.
"When I was six, I wanted to be a ski racer but my brothers talked me out of it and I just kept following them into moguls and doing airs." At 15, she was second in the U.S. Halfpipe championships. In 2011, at 17, she won the overall AFP (Association of Freeskiing Professionals) halfpipe title and did so again the following year, also winning two X Games medals. In 2014 she won silver in the Sochi Olympics in slopestyle, competed in both slopestyle and halfpipe in the 2018 Olympic Games, and was 13th in the 2022 Olympic halfpipe in Beijing at age 29.
Logan credits some of her success to growing up skiing in Vermont. "It makes you tough to ski in Vermont," she told Vermont Ski + Ride Magazine in an interview. "Growing up in those conditions where it's almost always cold and icy you have to have a lot of passion. I think it makes me like a challenge: Like, I like to take a different line than everyone else, try something new."
Caroline Claire: Competed in 2 Olympics; 2018-2022
Caroline grew up in Manchester, VT, and began working with coach Jesse Mallis at the Mount Snow Academy as a freshman. She (and Mallis) later moved to Stratton Mountain School but she kept coming to Mount Snow's Carinthia Parks to train and in 2018 became the first Stratton Mountain School student to compete in the Olympics (in PyeongChang, South Korea) while still in high school.
She competed in the 2022 Beijing Olympics as well but crashed on a practice run before the freeskiing competition and blew out her knee. Devin Logan, a fellow Mount Snow skier, was there to comfort her. "Dev was right. This year and this injury taught me just how strong of an individual I am and how much happier I can be when I put myself first and look at myself as more than just a skier." Caroline wrote on Instagram recently. Now 23, Claire is taking a break from competing.
Mac Forehand: Competed in 1 Olympics, 2022
Mac Forehand grew up in Connecticut skiing on weekends at Stratton. But what Mac loved most was skiing the terrain parks, in particular, Mount Snow's Carinthia Parks. Carinthia, the East's biggest terrain park area, became his training ground. Like Caroline Claire and Devin Logan, Mac worked there with coach Jesse Mallis. He attended Stratton Mountain School.
Like Devin Logan, Mac began competing in both slopestyle and big air skiing, using the giant jumps and half-pipes at Carinthia to perfect his signature style. In 2018 he began competing on the World Cup circuit and in 2019, at age 17, he won the overall World Cup in slopestyle.
"Mac Forehand isn't just one of the best junior freeskiers in the country, he's one of the best freeskiers: period. He's just so smooth." said his coach, Jesse Mallis, at the time in an interview with
Vermont Sports
magazine. Mac faced a series of injuries after that but came back and competed at the 2022 Beijing Olympics. At the 2023 X Games, Mac earned a perfect score in big air and he's also a favorite to participate in the 2026 Olympics in Italy. He'll be just 25 then. Mac now considers southern Vermont his home (his parents moved here) and when he's not off competing, you might see him practicing at
Carinthia
or just cruising the slopes with friends.
Produced in partnership with Vermont Ski + Ride Magazine.