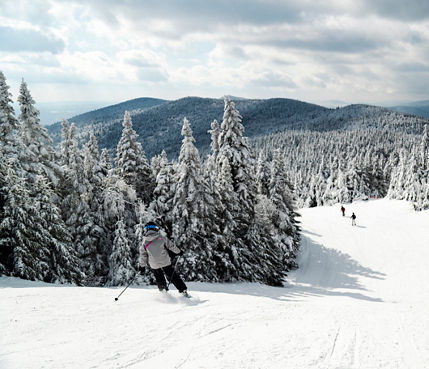 Looking for a fun winter adventure that doesn't involve skiing? Strap on a pair of snowshoes and explore the quiet, snowy trails at Mount Snow. Strap on a pair of snowshoes and explore these quiet regional trails.
Snowshoes strap onto most snow boots, giving you a superhero-like feeling as you stride across deep snow on their wide platforms. With heel lifts and cleats that grip steep, hard pack slopes, snowshoes make climbing easier too.
Native Americans developed snowshoes 8000 years ago, crafting shapes and sizes to match their needs. Some were shaped like snowshoe hares' rear feet while others, like the rounded "bear paw" snowshoes in Quebec and Labrador, were designed for navigating dense forests.
Today, snowshoes come in various shapes and sizes, from beginner Tubb's Green Mountain Bear Paw for flatter terrains to racing models from Dion, based in southern Vermont. Dion also offers modular snowshoes that adapt to diverse conditions. Atlas and MSR also make a variety of models.
Keep in mind that snowshoeing can be more strenuous than walking in running shoes, like walking on sand on a beach. It's a fantastic workout even with top-quality snowshoes.
Mount Snow's Best Snowshoeing Adventures
Mount Snow
If you are just getting into snowshoeing and out for a recreational stroll, the spa at Mount Snow's
Grand Summit Resort
is the place to rent snowshoes and even has guided snowshoe tours (sign up ahead of time.) The tours last about an hour and a half.
You can also rent snowshoes and head out around the resort your own. Keep in mind that snowshoers must follow the ski area's "uphill" policy if they are on ski trails. The designated trail route for travel both uphill and downhill is Canyon to High Traverse to Cascade, which extends from the base of the Canyon Express (Lift 9) to the summit and on Saturdays and holidays, uphill routes are closed. On those days, the Mount Snow region has plenty of other beautiful places you can explore on snowshoe or, if the snow is sufficiently packed down, on foot.
Timber Creek
Just across Route 100 from the Mount Snow main base area, the
Timber Creek Cross-Country Ski Center
rents snowshoes and has dedicated trail system just for their use. From the Sugar House and pro shop at the base, snowshoe routes follow the Hill Top Trail up to great views of Mount Snow and then loop back around. The quiet trails wind through the woods passing by a lean-to where an outdoor fire pit is a great spot to warm up. You will need a trail pass and Timber Creek offers season passes, as well as rentals.
The Valley Trail and Crosstown Trails
If you have a pair of snowshoes and don't want to pay a trail fee (and there's sufficient snowpack) pick up a trail map at Mount Snow Sports or the Grand Summit Resort and check out the free
Cross Town Trail system
. The trail system starts at Mount Snow's base and then heads past Carinthia, past the Mount Snow Golf Course and goes all the way to West Dover. There are nine trailheads with parking along the way so you can jump on or off it easily. Sections of the system include trails such as the Sherwood Forest Trail, which can feel quite remote, with offshoot trails like Friar Tuck and Maid Marion. Some of the well-marked trails are also used by snowmobiles but you'll also find long quiet stretches with information placards that talk about the local wildlife. The system includes section of the
Valley Trail
, a six-mile walking and, come summer, biking trail that weaves in and out of private land and connects the ski area with West Dover's historic downtown and, eventually all the way to Wilmington. The trails also loop by the Hermitage Club and Haystack ski area. For a real workout, snowshoe all the way from Mount Snow to Wilmington and then take the MOOver bus back. Be sure to pick up or print out
this trail map
before heading out.
The Catamount Trai
l
If you're feeling adventurous and want to get off the beaten track, explore the
Catamount Trail
which goes from the Massachusetts border almost to Canada. The 300-plus mile trail was originally planned as a backcountry ski route. The trail is divided into sections and the Catamount Trail Association hosts periodic tours on each section. If you have a pair of snowshoes and want to explore,
Section 3
from Route 9 to the Somerset Reservoir is a beautiful, remote roughly 8-mile trek that passes streams and gorgeous views of the mountains and the Deerfield Valley. The trail is mostly flat but does have some steep sections and it's not groomed. It also is remote so be sure to have a map, compass and consult the CTA's
"Stay Found" guidelines
before heading out.

Produced in partnership with Vermont Ski + Ride Magazine.