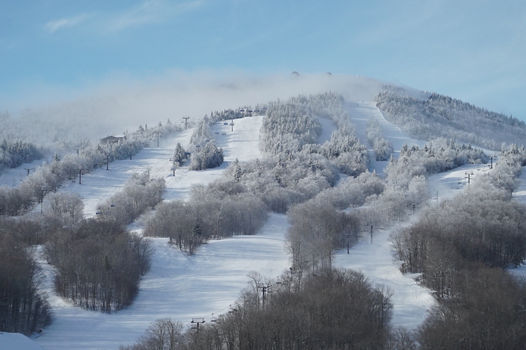 Located in the northeastern region of the United States, Vermont is known for its beautiful scenery and outdoor recreational activities, especially during the
winter season
. One of the most exhilarating ways to experience Vermont's winter wonderland is by snowmobiling. The southern section of the Green Mountain National Forest, which stretches from Mount Snow to Brattleboro and north to Okemo Mountain Resort, is a popular playground for snowmobilers, where you can ride for miles through woods, blasting through snowy meadows, crossing frozen streams and getting to parts of Vermont that many people never experience in the winter.
Vermont's Expansive Snowmobile Network
Thanks to the Vermont Association of Snow Travelers (VAST), Vermont has one of the oldest and strongest snowmobile networks in the country. With over 24,000 members and 120 snowmobile clubs throughout the state, VAST members help maintain and groom more than 5,000 miles of snowmobile trails and negotiate access with private landowners and state and federal organizations. The network even has its own stop signs, speed limits, and game wardens stationed at checkpoints in the middle of the woods.
"It's a really neat network with its own stop signs, speed limits and even game wardens stationed at checkpoints in the middle of the woods," says April Volovski, general manager of Vermont Mountain Adventures which runs snowmobile tours just north of Mount Snow, based on Route 11 near Manchester. "Trails open in mid-December and stay open through mid-April, as long as there's a packed snowdepth of four to six inches," says Volovski.
Snowmobile Tours near Mount Snow
The Deerfield Valley Stump Jumpers Club and Woodford Snowbusters, (one of the largest snowmobile clubs in the country), work year-round to manage and maintain the trails near Mount Snow. These clubs groom the trails during the winter season to ensure safe and enjoyable riding conditions. A two-hour snowmobile tour is an excellent way to explore the area, and outfitters can accommodate anyone, regardless of experience level. A driver's license may be required by some outfitters.
When planning on a snowmobile tour in Vermont, it's important to make a reservation in advance, tours can book up quickly and may be limited depending on snow conditions. Additionally, it's essential to dress appropriately for the weather, wearing windproof and waterproof pants, warm jackets, gloves, and a balaclava (avoid neck scarves, as they can easily come loose). Outfitters may offer rental snowsuits and boots, and helmets with face guards are provided to all snowmobile guests.
It's recommended to arrive at the outfitter at least 45 minutes early to allow for time to watch a safety video and receive instructions on operating the snowmobiles before heading out on the trail. By taking these precautions, visitors can ensure a safe and enjoyable snowmobiling experience in Vermont's winter wonderland.
Discover the Thrills of Snowmobiling with Local Outfitters Near Mount Snow
Snowmobile Vermont, Woodford
Snowmobile Vermont, the largest snowmobile guide service in Vermont, offers Mount Snow area tours about 20 miles southwest of Mount Snow on Route 9 in Woodford, which is a 25-minute drive. After watching a safety video and practicing basic maneuvers on a "happy lap," guests embark on a two-hour backcountry tour that explores some of the 600,000 acres of Green Mountain National Forest, leaving paved roads and signs of civilization far behind.
The backcountry tours last about two hours and the exact route depends on the conditions and the group. "We have more than 200 miles of trails to choose from," says general manager Mark Pedersen. "But no tour is the same. We tailor each tour to the riders, and we'll split up a group if necessary." Some tours travel as far north as the frozen Somerset Reservoir, where guests can open up the throttles on the Polaris sleds or loop around Glastenbury Mountain. According to Pedersen, the areas where they ride are some of the most remote parts of Vermont, with no other way to see this terrain in the winter. There's often no cell service in this terrain, but the guides carry radios for communication.
Guides are mandatory, with a maximum of four snowmobiles per guide. Children ages four and up can ride as a passenger, while drivers must be 16 or older, and passengers must be 18 or older. Guests also have the option to ride with the guide for a reduced rate. Snowmobile Vermont also offers snowmobile tours from their other bases near Okemo Mountain Resort and Stowe Mountain Resort.
Vermont Mountain Adventures, Manchester
For a different perspective on Vermont's rugged terrain in the Green Mountain National Forest and the rural farmland intersecting it, or for those who want to let their children drive their own snowmobiles, visit Vermont Mountain Adventures in Manchester, near Bromley. This location is about 25 miles northwest of Mount Snow, or a 40-minute drive away. Along with a fleet of full-sized Polaris Indy 550 snowmobiles, the company offers miniature snowmobiles, also known as Arctic 120cc sleds or "Kitty Cats," which children aged 7 or older (and weighing under 100 lbs.) can drive on their own. These sleds are safe and have a maximum speed of about 4 mph. According to General Manager April Volovski, "you can actually run faster than the children's machines, but it's really cute to watch them drive our mini-track with small bridges over tiny creeks. We've watched kids grow up doing this, and now they are bringing their children." The children are equipped with their own helmets and faceguards, receive a quick lesson, and then follow a guide on a 25-minute tour. Children aged 5 and up can also ride with adults on full-sized snowmobiles.
The two-hour backcountry tours are typically 20 to 25 miles long, but the guides will customize them based on the group's abilities. "We have some strong, experienced groups whom we've taken roundtrip nearly 60 miles, all the way to Devil's Den, a giant frozen waterfall with 30-foot icicles in the White Rocks National Recreation Area," says Volovski. "We like to check in with people first, though, to make sure they have the energy." Snowmobiling uses muscles that are not often used, and your body weight helps maneuver the sled, so it can be quite tiring. "Once you go over 10 mph, it can take some strength just to hold on." The VAST trails have a speed limit of 35 mph. However, even shorter tours explore stunning areas of the forests, with some straightaways where you can pick up speed, and some narrow, technical sections where the trail is only two-sleds wide. One of the tour's highlights is Mad Tom Notch, which offers fantastic views west to Manchester and Mount Equinox, as well as breathtaking sunsets.

Produced in partnership with Vermont Ski + Ride Magazine.