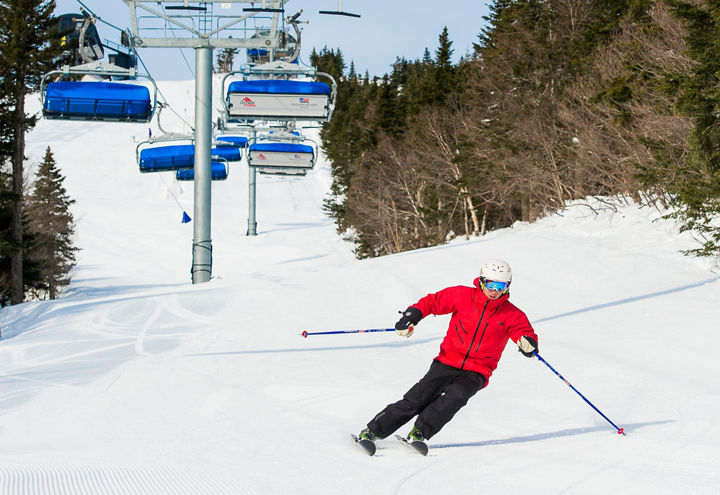 Head over to Mount Snow's
Carinthia Parks
any day and you might see a skier or rider soaring into the air 20 or 30 feet and landing some 60 feet or more from takeoff. It's not something you do casually: these athletes have trained for years and progressed until they are ready for big air.
The same is even more true with ski jumpers, the skiers you see standing at the top of 90-meter jumps—usually in Olympic competitions—before they glide down a narrow track and then soar into the air.
Vermont has a long history of training ski jumpers, and Southern Vermont, in particular, is one of the few places in the country where you can still watch ski jumpers compete every winter.
A Ski Jump in Every Southern Vermont Town
Humans have always wanted to fly and skis (and now snowboards) were some of the first contraptions that help them get airborne. Ski jumping was part of the very first Winter Olympic Games in 1924 and it is still a hotly contested sport in Europe today.
In the 1920s, even before there were ski lifts, ski jumps began popping up around Vermont. In 1921, Stowe had a 25-meter ski jump on Marshall Hill (now a popular sledding hill) that drew a crowd of 2,000 to watch competitions during the town's Winter Carnival.
In 1924, a 40-meter jump went up on Chipman Hill, on the outskirts of the town of Middlebury. It was later replaced by a 50-meter jump at the Middlebury College Snow Bowl, which hosted the NCAAs for ski jumping in 1961 and 1973. The Lyndonville Outing Club had a 45-meter jump that operated from 1947 to 1972.
But the hotbed in Vermont, however, was down south in Windham County, near Mount Snow. In 1925,
Vermont Academy
put in the first of several small jumps on its Saxton's River campus and the school became a training ground for ski jumpers. Not to be outdone, in 1936, the Putney School erected a small 36-meter jump. In Dummerston, Maple Valley built a 45-meter jump in 1968.
Ski jumper Fred Harris helped erect a small, 25-meter jump in Brattleboro's Latchis Park that operated from 1952 to 1979.
By the 1970s, with the rising costs of insurance and a waning interest in ski jumping, most of Vermont's jumping hills had been decommissioned and destroyed.
However, in Brattleboro's Living Memorial Park, just a mile from Exit 2 on I91, new ski jumps were built in 2000 at the town's recreation area.
There, a new generation of ski jumpers is now learning to fly. Kids enrolled in the
Harris Hill Junior Ski Jumping Program
practice twice weekly on the 10-meter and 18-meter jumps erected there in the early 2000s and as of 2022 at Vermont Academy's 10-, 20- and 35-meter jumps. The best of them may then go on to compete at Harris Hill, just north.
Harris Hill's Ongoing Legacy
One of the most historic ski jumping competitions in the country, the Harris Hill Ski Jump, is still going strong. In February 2022 the
Harris Hill Ski Jump
in Brattleboro celebrated its 100th year of hosting an annual competition. In 1910, a 23-year-old local daredevil named Fred Harris strapped two planks to his feet and went off a homemade jump. He promptly broke his 'skis,' as recounted in the book,
Harris Hill Ski Jump, The First 100 Years
.
But Harris, who also lays claim to being one of the first to ski Mount Washington's Tuckerman Ravine, persevered, both in his skiing and in his efforts to build a ski jump. In 1922 he erected a handmade wooden trestle that cost him about $2200 to build and hosted his first jumping competition there. During the event, a New England record was set. More than 2,500 spectators held their breaths as the skiers flew down the ramp and off into the air.
The competition grew and grew, attracting ski jumpers from all over the world and at its heyday in the 1950s drew crowds of nearly 10,000 to the Brattleboro area. In 1985, Mount Snow helped to provide a snowmaking system to keep the area covered.
In 2006, though, the aging jump was deemed unsafe. It sat idle for three years until $600,000 could be raised to rebuild the 90-meter jump to international specifications. The jump is still managed by volunteers and is only open for competition for one event a year: the Harris Hill Ski Jump on Sunday with a Pepsi Cup hosted on Saturday. To find out when the 2024 event will take place, head to
harrishillskijump.com
.
Produced in partnership with Vermont Ski + Ride Magazine.