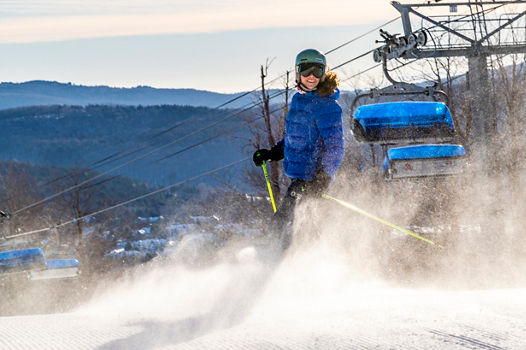 Ever since it was founded,
Mount Snow
has been doing things a little differently from other Vermont ski mountains do. See how well you know some of the more unique aspects of Mount Snow's history.
Mount Snow got its name from:
A) The fact that it gets more snow than any of the surrounding mountains.
B) An advertising executive who thought that would be an apt name for a ski resort.
C) A cattle farmer named Snow who once owned land.
The correct answer is C. The mountain where Mount Snow's
lifts and trails
are located now was known as Mount Pisgah and was owned by a fifth-generation Vermont farmer and cattleman named Reuben Snow. Snow sold the land in May of 1953 to ski area developer Walt Schoenknecht. Schoenknecht had set up ski areas in Connecticut at Mohawk Mountain and Massachusetts at Brodie Mountain and, according to New England Ski History, after making his way through a foot of snow in early October to the 3,556 summit of Mt. Pisgah, decided the mountain would have a long ski season and be a good spot for a ski area. He bought 500 acres from the Snow family for $15,000, invested more than $4 million and opened the ski area in late fall of 1954 with five trails, two chairlifts and a rope tow. He renamed the mountain Mount Snow after farmer Reuben Snow.
Mount Snow founder Walt Schoenknecht:
A) Designed his own chairlift.
B) Blasted a hole at the base area to create 'Snow Lake' and spouted water out of it to make "Fountain Mountain."
C) Commissioned the Atomic Energy Commission to detonate a nuclear bomb underground. The goal? Create a crater that would give the ski area more vertical drop.
The correct answer? All of the above. Shoenknecht, who had retired from the Marine Corps, was a tinkerer and inventor of sorts. He designed one of his first single chairlifts using a mono-rail conveyor belt that, according to Thad Quimby of the Burlington Free Press, allowed five times the uphill capacity of similar single chairlifts. He did blast a hole near the base area to create Snow Lake and built the Snow Lake Lodge across from it. In 1965, he also got the idea to install a geyser in the lake. As the water shot skyward, it froze, creating Fountain Mountain, a steep dome with 350 feet of vertical drop that was large enough to have its own rope tow and slalom runs. Schoenknecht also considered other ways he could increase the vertical drop and reached out to the Atomic Energy Commission inviting them to detonate a bomb. Fortunately, that never went anywhere. Schoenknecht expanded Mount Snow to 44 trails over three mountains and a gondola but by the mid-1970s, he fell on hard times and it went into bankruptcy in 1975. After that, it went through a series of owners and was purchased by Vail Resorts in 2019.
Mount Snow was host to:
A) The first ski and snowboard terrain park in East.
B) The first lift-served downhill bike park in the East.
C) The first Winter X Games.
The correct answers? A and B, but C is not far off. In 1992, a run on Mount Snow's main area was devoted to a terrain park with the name of Un Blanco Gulch. "I always heard about what Mount Snow was doing with their
terrain parks
, like using a buried Volkswagen as a feature in Un Blanco Gulch, and it was inspiring," Day Franzen, who later worked at Mount Snow, once told Vermont Sports Magazine. Four years earlier, Mount Snow had acquired and annexed a struggling adjacent ski area, Carinthia. After, Mount Snow moved the terrain park to the Carinthia area and began developing other terrain features. Carinthia is now home to 100 acres with close to 10 named park areas and some of the biggest features in the East. The park has turned out such stars as Olympic snowboarder and medal winners Kelly Clark and Devin Logan and, more recently, slopestyle World Cup winner Mac Forehand and US Ski Team member Caroline Claire.
In 1986, Mount Snow became the first ski area in the East to offer lift-served downhill mountain biking and may have been the first in the country. It still has one of the longest beginner/intermediate lift-served downhill bike trails in the East, the Gateway Trail.
Last, while Mount Snow did host the Winter X Games in 2000, it was not the first ski area to do so.
Some of Mount Snow's best-loved events include:
A) Brew Festival
B) The Jack Jump World Championships
C) Duct Tape Derby
The answer is
all of the above
. Nearly 30 years ago, long before craft brews were a thing, Mount Snow began hosting a brewers festival in the off-season. The festival was so popular that in 2009 the ski area launched a Winter Brewers Festival. This year the Winter Festival is being held on Saturday, April 1. The 28th annual Brewers Fest will take place this summer.
No one knows if there is a Jack Jump Regionals or a Jack Jump Nationals but for years, Mount Snow has laid claim to hosting the Jack Jump World Championships. It's a uniquely Vermont event, a slalom race featuring homemade versions of single ski with a seat mounted to it that loggers and sugarers once used to get down the slopes. Held Feb.11 in 2023, the event usually features some spectacular wipe-outs.
Mount Snow's fans take their Duct Tape Derby seriously. Each year groups and families spend days planning and building their elaborate craft (usually from cardboard and duct tape). Creative costumes and themes and great paint jobs usually outweigh how fast the contraption can actually slide down the hill —or even whether it stays together. With awards for Most Creative, Best Kids-Only Sled and Judges Choice, no one seems to care.

Produced in partnership with Vermont Ski + Ride Magazine.