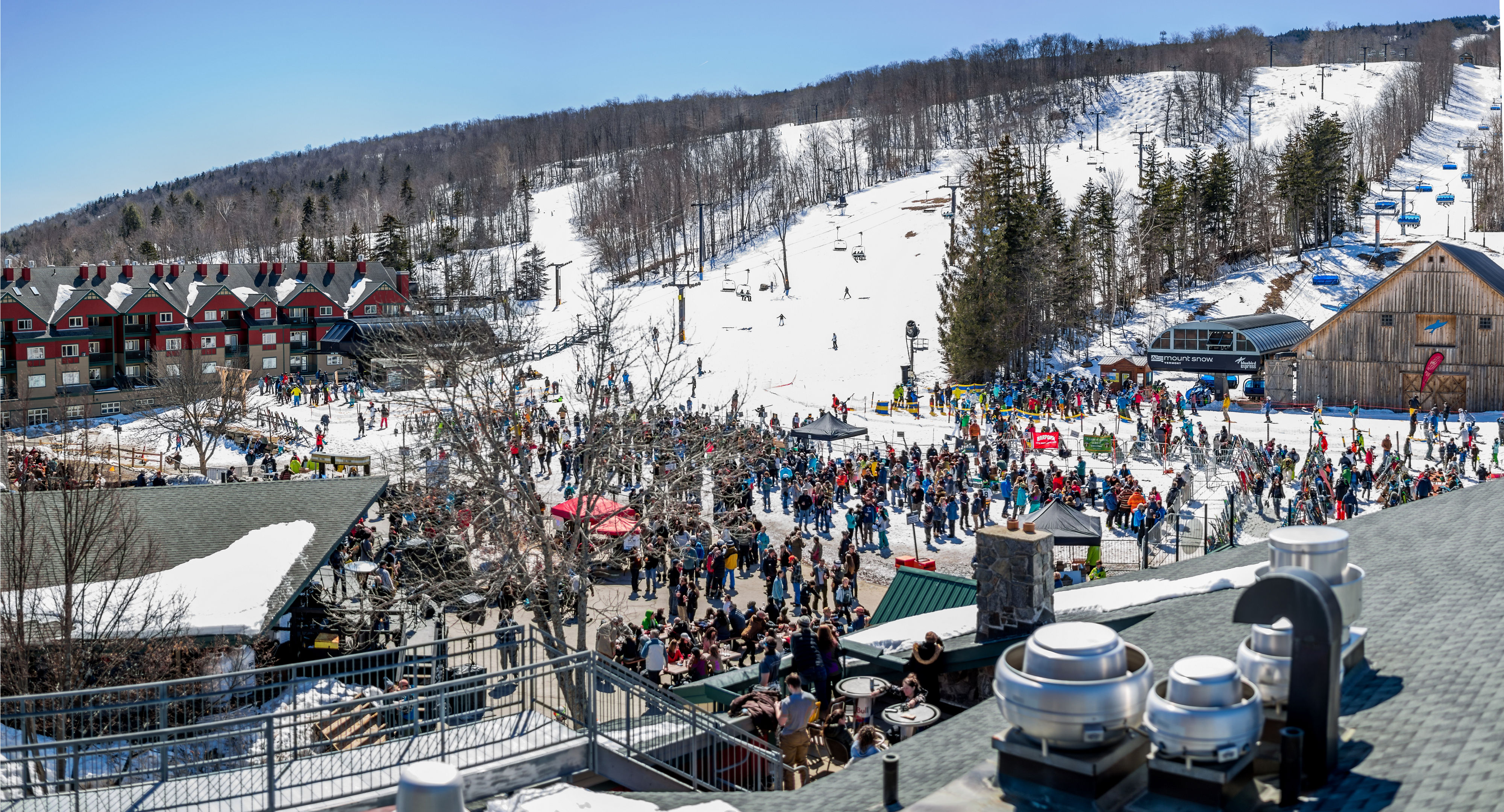 When it comes to events, Mount Snow knows how to have fun. For decades the ski area has hosted the fun and the zany – things like the Cloud Nine Nuptials and Duct Tape Derby. It has added celebrations of local brews and music, rail jams and made-for-spectating event such as the Carinthia Classic and the Jack Jump World Championships. Here are 10 Mount Snow events not to miss.

Opening Day

It may be dictated by weather but no matter if Mount Snow's opening day is in early or late November, it's a cause for celebration—so much so some camp out the night before or bring breakfast makings just so they can make the first turns on the hill. Just ask Brian Smuda who made first chair at Mount Snow for seven years straight, often wearing a one-piece suit and a wig. Smuda has been making the day trek to Mount Snow from his home in Enfield, C. for most of his 35 years and has made the first chair seven years in a row. He became so determined to keep the streak going he camped out overnight. "I got my sleeping bag and lawn chair and set up right next to the lift," he says. Others have joined him, many dressed in odd costumes, some cooking breakfasts on a camp stove as they wait for the lifts to open.

Torchlight Parades: New Year's Eve, Martin Luther King and Presidents' Weekends.

Fireworks, a ski instructors' torchlight parade down the mountain, live music at the Snow Barn. These are some of the New Years' rituals at Mount Snow. But if you miss this weekend, don't worry: the Torchlight Parade is also held on Christmas Eve, repeats on Martin Luther King Weekend (Jan. 14) and over Presidents Weekend (Feb. 18).

Valentine's Day and Cloud Nine Nuptials

There's no need to go to Vegas: On Valentine's Day you can get married (or renew your vows) at the top of Mount Snow's Cloud Nine lift. For decades, skiers and riders have been making a pilgrimage to Mount Snow to do just that. A local justice of the peace officiates at the top. After, head to the base for a glass of Champagne or plan to visit one of the area's many excellent restaurants for a romantic meal.

Shamrock Weekend

Some ski areas celebrate St. Patrick's Day. Mount Snow makes a weekend out of it. Dress in green (you will be one of many), ski in costume, enjoy Irish music or try your luck at the Pot o' Gold Scavenger hunt which takes you all over the mountain on blue and green trails. Find all the clues and you can win a prize.

Mardi Gras

Mount Snow celebrates on Main Street with a Bourbon Street flair with live music moving through the resort, Mardi Gras beads (of course!) and more parties and music later in the evening at the Snow Barn.

Jack Jump World Championships
Never been to the Jack Jump World Championships? You don't need tickets, but you absolutely should go to watch this hilarious event that's often filled with spills and home-made gear. Jack jumping is the time-honored Vermont tradition of descending a snowy slope on a single ski with a seat mounted on it. Competitors use their feet to brake and lean their torsos to turn. The earliest jack jumpers (known as skibocks in Europe) originated in New England in the 1800s and were allegedly used by loggers to get down the snowy hillsides. Mount Snow has been hosting the World Championships for over a decade with hardy locals bringing their handmade craft to compete.

Carinthia Classic

In 2018, to celebrate the 10th anniversary of its Carinthia terrain parks, Mount Snow launched the Carinthia Classic Rail Jam, a free-form challenge to skiers and riders of all abilities to showcase their best moves in a plaza-style arena loaded with rails, boxes, and an arsenal of unique features—all within view of the Carinthia base lodge. The Carinthia Classic is back with a DJ spinning tunes. If you've never watched a rail jam, think of a skatepark competition but on snow, with a wide variety of features.

Reggae Fest, Sink or Skim Pond Skim & Duct Tape Derby — March 25-26
When it comes to celebrating spring season, Mount Snow goes big. The annual Reggae Fest draws people from all over to listen to some of the best reggae bands in the region. It's also the perfect time for the annual tradition of pond skimming. Skiers and riders (often in costume) attempt to glide across a small pond without falling in for the Sink or Skim Pond Skim (March 25). Last, this weekend also typically features one of Mount Snow's longstanding signature event: the Duct Tape Derby (March 26). Contestants spend days crafting their sleds – some designed to look like cars, bobsleds, boats, dragons, Crayon boxes, fire hydrants and more—and careen down the slopes. There are prizes for Most Creative, Best Glide and, of course, best Kids' craft.

Vermont Craft Beer & Chili Stroll

Less than 10 miles down Route 100 from the Mount Snow base area, the Wilmington is one of those classic Vermont villages that postcards are made from. On March 31, the town combines two of the region's specialties: craft beer and great food in the Vermont Craft Beer and Chili Stroll. Wander the historic downtown while enjoying live music, warm bowls of chili made by some of the best chefs in Deerfield Valley and Vermont's finest craft beers.

Winter Brewers' Festival

Vermont is to craft breweries what California's Napa Valley is to wineries. For 27 years Mount Snow has been celebrating the region's best craft beers and ciders at it fall Brewers' Festival. That Mount Snow event was so successful that in 2009 it launched the Winter Brewers' Festival. Everyone can enjoy the live music at the base area and anyone 21 and older can buy a ticket to get tokens and a glass to sample some of the finest local brews.