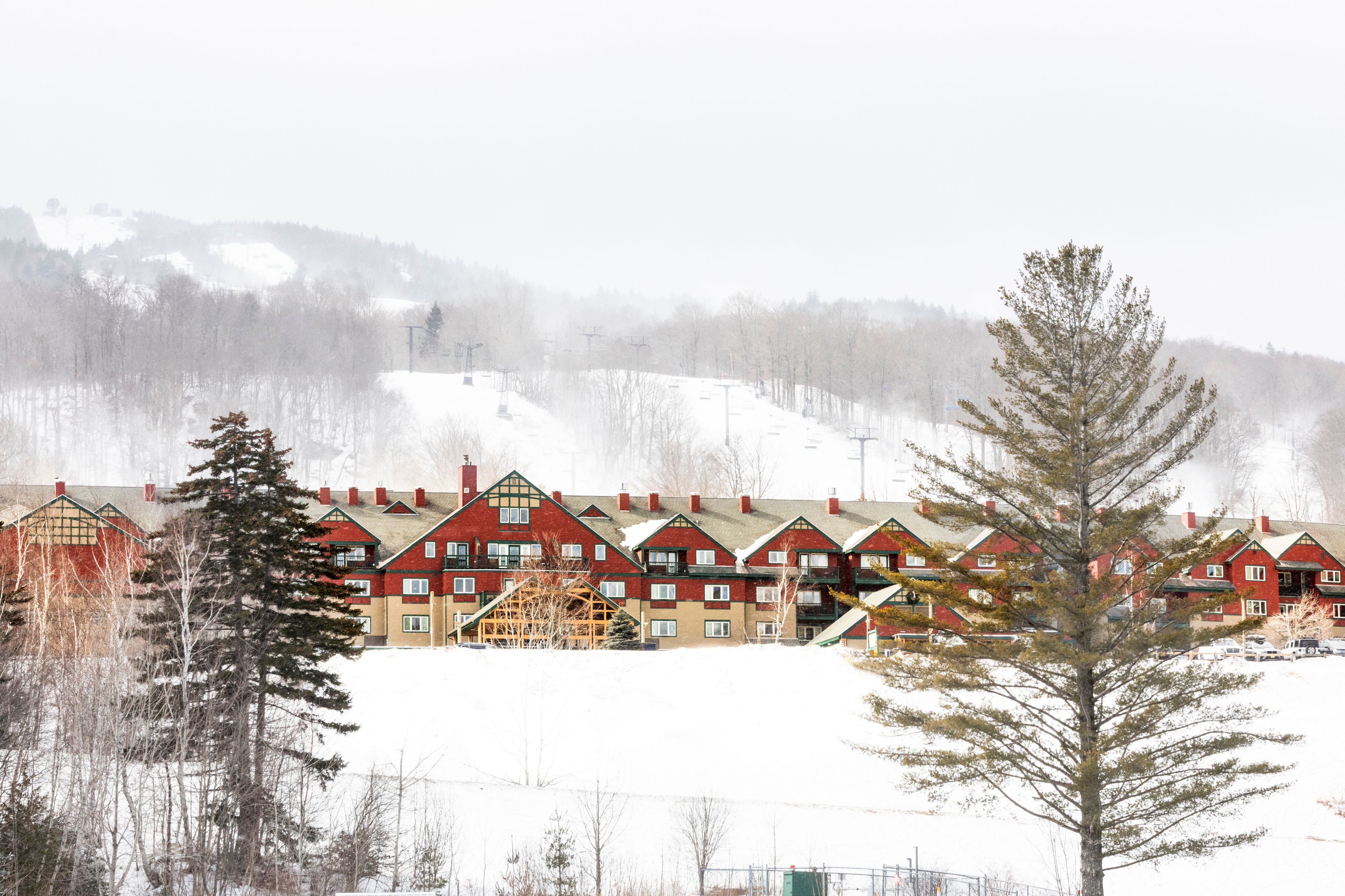 One thing that sets Mount Snow apart from many other Vermont ski areas is the wide variety of lodging. The ski area itself has nearly a dozen different groups of condos, many ski-in and ski out. The Deerfield Valley, which stretches along Route 100 from Wilmington through Dover, features everything from truly elegant, classic Vermont inns to Bavarian style B&Bs to affordable motels. That said, during holiday periods it can be hard to find an empty bed so it's best to book far ahead.

Best Mount Snow Lodging for First Tracks

If you're a family that wants to minimize driving or the type who likes to get first chair (or second or third), Mount Snow has no shortage of slopeside, ski-in, ski-out condos. You can book units at Mount Snow Slopeside or Glen Run Condos at Carinthia and get to the park before most people arrive. Seasons Condos has some slopeside condos with views of the trails. All told, there are nearly a dozen different condo complexes that are close to the resort's two base areas and that you can book through the resort's central reservation system.

If you are looking for a hotel, the Grand Summit is the resort's only ski-in, ski-out property and has everything from rooms and suites to studios. There's also a full-service spa, fitness center, steamroom and sauna, outdoor heated pool and hot tub. Best, Epic Pass holders get 20% off food and lodging at the Grand as well as at many of the properties booked through Mount Snow's central reservation system. About a half mile to the lifts and within walking distance of the Snow Barn, The Lodge is a comfortable motel with 47 rooms and an indoor hot tub. Originally built in the 1960s, it saw a complete remodel after new owners bought it in 2019.

Best Budget Hotels near Mount Snow

Less than a mile from the slopes, there are several older properties that are great values. If you're traveling solo, the Kitzhof charges per person (not per night) and for 2023, a single starts at $95 and goes up to $245 for a family room that can sleep four during the holidays. The inn was built in the Austrian style in 1958 and décor is classic knotty-pine, reminiscent of the 1970s. Dover's The Gray Ghost Inn also has a special $95 rate for singles ($120 on peak weekends and holidays) up to $540 for a three-bed family suite. It's a family-owned place that features classic ski lodge décor with pine furniture, stone hearth, a game room with pool and foosball tables and ping pong.

Best Classic Vermont Inns

The classic, upscale Vermont bed-and-breakfast, the kind The Bob Newhart Show featured on TV in the 1970s, is alive and well. At the family-owned The Deerhill Inn rooms (some with four-poster beds) come with a massive breakfast that can include eggs, bacon and country ham —all sourced from local farms, homemade scones and, of course, pancakes. Set above the historic village of West Dover, it's less than 3 miles to Mount Snow.

The white clapboard West Dover Inn with its broad porches dates back to 1846 when it was a stagecoach stop. For the past 100 years, each innkeeper has added words to an ongoing poem, adding to the history of the place. The inn's 1846 Tavern is a popular watering hole for skiers and riders coming for a fireside meal and to sample the raw bar, or those just looking for drink and a place to watch a football game.

Once a private club in West Dover, in 2020 The Snow Goose Inn was sold to new owners, a family who converted it into public lodging. The 12 large rooms and suites are pet-friendly and has an option for checking out as late as 8 pm – great if you want to come back and shower and change after a day on the slopes. There's even a Tesla charging station on site.

Best Boutique Hotels
An 1850s Colonial set on a corner in Wilmington, The Vermont House has freshly renovated rooms and suites that feature barnboard beds, elegant linens and a sense of timelessness. The boutique hotel is a short walk from the Moover bus stop, so you won't even need a car to get to the slopes.

In West Dover, the Farm Road Estate has everything from ten nicely-appointed rooms in the main historic inn to cozy cottages – many with wood burning fireplaces, exposed wood beams and wide pine floors. Sink into one of the leather couches set beneath the exposed wood beams in the Inn's main living room or enjoy executive chef Christopher Lauinger's dishes such as seafood stew, house-made tortellini, or Shepherd's pie at the Sawmill Tavern.

Most Elegant
The Hermitage Inn, originally built in the 1800s in West Dover, saw a massive renovation a year ago. New owners put millions into bringing the inn which had set empty since 2018, up to a new level of elegance. Polished wood floors, a stone hearth and fireplace and 14 bedrooms done in a palette of beiges and grays with fine fabrics and wall coverings, give a sense of opulence to the old inn which sits on 112 acres. The menu was designed by James Beard Award-winning chef Michael Schlow and the extensive wine cellar has earned accolades from Wine Spectator. The property includes a fitness center, spa treatment room, sauna and jacuzzi and gondola cars, scattered outdoors, can be reserved for private dinners.

Set high on a hilltop above the village of Wilmington and a 10-minute drive to Mount Snow, The White House has magnificent views of the surrounding mountains. Built in 1915 as a summer retreat for a lumber baron, the mansion has 18 stylishly appointed bedrooms feature antiques (some have four-poster beds), modern private baths and, in some instances, fireplaces. The hallways have hand-painted vintage wallpaper and chandeliers and the hotel's restaurant, Clara's Cucina Italiana, serves northern Italian specialties and homemade pastas Thursday through Sunday evenings in an elegant dining room – as well as Sunday brunch.

Produced in partnership with Vermont Ski + Ride Magazine.