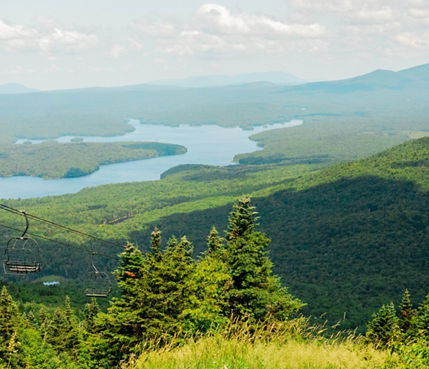 In the long days of spring, when the bite of winter seems to have lost its grip, something magical happens in Vermont. Tucked away in the hills and hollows, you'll see small wooden shacks where streams of smoke rise and hover in the treetops. A sweet smell takes over the valleys.
Sugaring season is here and Vermonters take advantage of it: the Green Mountain State produces nearly 50 percent of all the maple syrup produced in the U.S. – a record 2.2 million gallons in 2020. Much of that is done by smaller mom and pop operations.
Vermont Maple Syrup Events and Traditions
Around Mount Snow and Vermont, sugarers (as they are called) will be watching for the days to warm to the 40s or higher and the nights to drop below freezing. The same weather that makes snow crystallize into the corn snow that is a skier's favorite spring harvest, helps the sap run in the maples. The freeze/thaw cycle builds up pressure that forces the sap out of the trees into the tap holes, without harming the trees.
Sugaring is a time-honored tradition. Each spring many sugarhouse open their doors to visitors during
Maple Open House Weekends
(March 25-26 and April 1-2 in 2023) so you can watch the process. Check the website to find out which sugarhouses are participating.
Some host sugar on snow parties where hot syrup is poured over clean cold snow. It hardens into a taffy-like substance that people scoop up with popsicle sticks or spoons. Pickles and doughnuts are customary side dishes.
Where to Taste and Buy Vermont Maple Syrup
With
more than 3,000 sugarhouses
, it's easy to find maple syrup tasting in Vermont. Many maple syrup farms are only open seasonally, but if you're visiting during sugaring season, here are three great stops near Mount Snow Resort.
Sprague & Son Sugarhouse
Just 20 minutes from Mount Snow in Jacksonville is
Sprague & Son Sugarhouse
. This local spot is the kind of place you can't help but stop on a road trip. It's quintessential Vermont, always promising fresh treats and memories to last a lifetime. Maple syrup tastings and education are a given, but don't fill up before trying the maple-flavored ice cream.
Robb Family Farm
The
Robb Family Farm
is just 35 minutes away in Brattleboro. This historic farm offers some of the best Souther Vermont maple syrup and maple products. You'll find maple candies, party favors, gift boxes and more at this can't-miss Vermont maple farm store.
Hidden Springs Maple
Hidden Springs Maple
in Putney is a bit farther at 45 minutes, but it's another great local business for Vermont maple syrup tasting. Their farm store carries their own maple syrup and maple products, as other Vermont maple farms' products. They also have specialty Vermont products and gift baskets for the perfect New England souvenir. The farm store is open seasonally, usually beginning Memorial Day weekend.
How Vermont Sugarers make Maple Syrup
At the
Robb Family Farm
, a mile down a dirt road near Brattleboro, the Robbs have been sugaring for more than five generations. "My husbands' family moved here from Guilford, Vermont in 1907," says Helen Robb, 78. She and her husband, age 86, spend the summers and falls cutting and hauling the wood they will need to fuel the sugarhouse's firebox in the spring and tending to the sap lines on their 360 acres and come spring, with the help of their son and a neighbor, produce around 1,400 gallons. They sell the syrup, as well as maple candies, creams and other products at their farm store, as well as online, and give tours of the operation, not just on Maple Open House weekends, but whenever the sugaring is in process.
"We feel it's important to show people how Vermont maple syrup is actually made," says Helen Robb. "A lot of people think the syrup comes right out the trees."
"In the old days, we'd have to trudge out into the snow to collect the sap in the buckets," she recalls. Today, like most sugarers, the Robbs have mazes of plastic tubes in the woods and the excess sap flows from the trees down to gathering tanks. "With the old buckets, wind and snow would dry out the tap holes so in addition to its being easier, we have a longer season when the sap flows now, too," she notes.
At this stage, the sap still looks clear – much like water – and has only 2% sugar. Many operations now use reverse osmosis machines to draw down the water content. To make a gallon of syrup takes 40 gallons of sap.
The sap then goes into an evaporator —stainless steel pans set over an 'arch' or firebox. It's loaded with fire wood and cranked to a high heat. There, the sap is boiled until the water begins to evaporate off. Sugarers skim the froth from the surface and wait until the sap begins to turn a warm golden color and thicken. At 219 degrees, the syrup is ready.
Like a fine wine, the quality, color and even the consistency of the syrup is dependent on its "terroir," to an extent and each batch gets taste-tested. It takes 40 years for a maple to produce sap for sugaring and some have been around for 200 years. The soils, the weather, the freeze-thaw cycles all impact the syrup, as well as whether it is made at the start or toward the end of the spring flow. Earlier in the season, syrup tends to have a lighter color and taste. As the weather warms, it becomes darker and more robust.
It's that coloration that you'll see defined on the labels that say "Grade A: Golden, Amber, Dark, and Very Dark." In order to be sold at retail, the syrup has to be clear and not hazy. The darker syrups add richer flavor in recipes such as cookies or dressing for over vegetables or sweet potatoes, while the lighter, more delicate syrups pair nicely as sauces on ice cream or yogurts or mixed into drinks in place of sugar. "We always give samples when people visit and it's fun to watch the expressions on their faces when they see how different the flavors can be," says Robb.
"I tend to like the Grade A Amber on my pancakes and I'll use the darker stuff for cookies," says Helen Robb. "But my husband likes the robust so we are a split household. But if that's our only split between us, I guess that's a good thing," she says with a laugh.
Vermont Maple Syrup Recipe
There are tons of ways to use Vermont maple syrup beyond pouring it on pancakes and waffles. Here's a cookie recipe from the
Vermont Maple Sugarers Association
.
Vermont Maple Peanut Butter Cookies

Recipe courtesy Vermont Maple Sugarers Association.

These cookies use no processed sugar, just pure Vermont maple syrup as the sweetener, and are loaded with protein thanks to the chunky peanut butter.
1/2 cup of butter softened (1 stick)
3/4 cup pure Vermont maple syrup (dark or very dark to add flavor)
1 teaspoon vanilla extract
1 egg
1 cup peanut butter, preferably natural chunky peanut butter
1-3/4 cups flour
1/2 teaspoon salt
1/2 teaspoon baking soda
Preheat oven to 375°F. Using mixer, combine butter and syrup until creamy. Add vanilla extract, egg, and peanut butter and beat well.

In a separate bowl, combine flour, salt, and baking soda. Gradually add the dry ingredients in batches, mixing before adding more.

Roll the dough into a ball the size of a ping pong ball and place on an ungreased baking sheet. Press cookies with a fork each way to create crosshatch pattern. Bake for 15 minutes and let cool on the sheet before transferring to a rack to completely cool. Serve and enjoy!


Produced in partnership with Vermont Ski + Ride Magazine.